Six People Die After Liquid Nitrogen Leak at Georgia Poultry Plant
You Can Watch the interview of the officials in the video below
---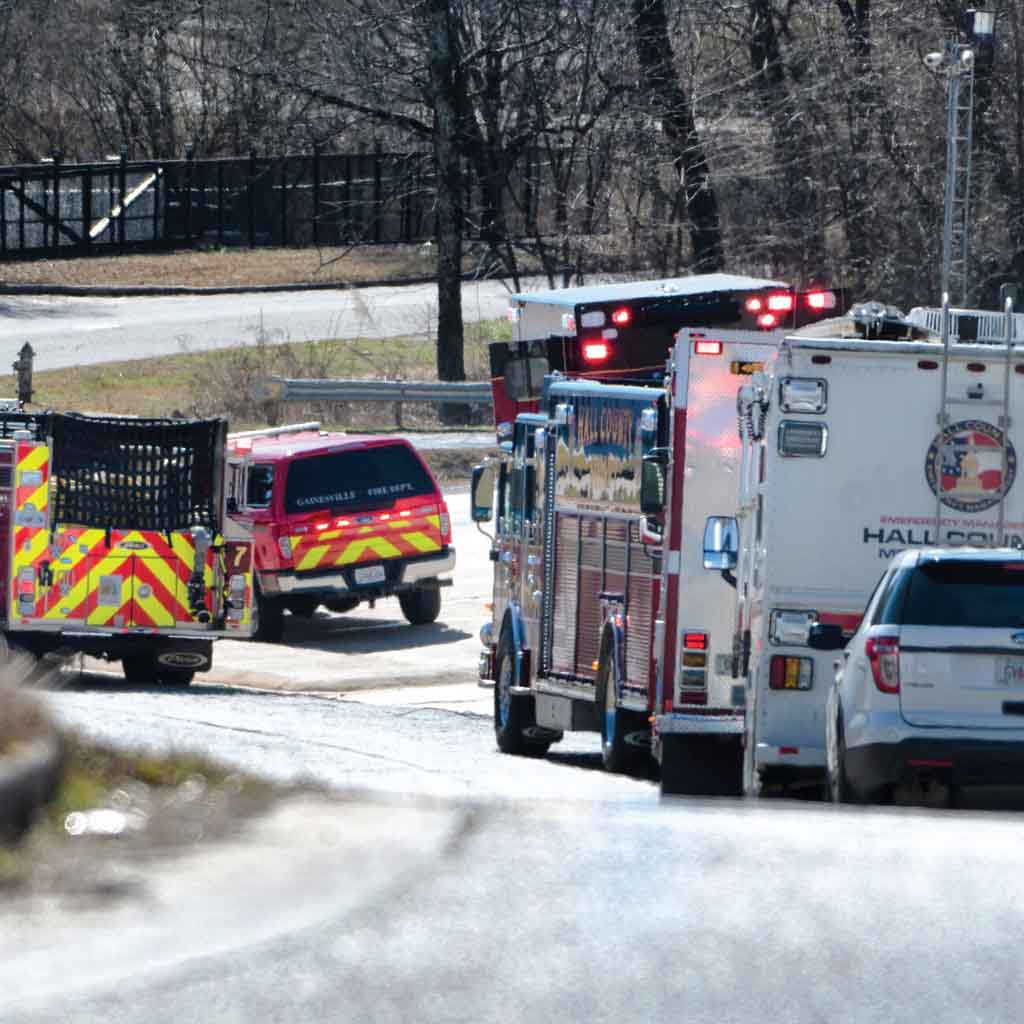 Five people were found dead at a Foundation Food Group plant in Gainesville, Ga., and a sixth person died at a hospital, the authorities said.
At least 6 people died and nine others were hospitalized after a liquid nitrogen leak at a Foundation Food Group poultry plant in Gainesville, Ga., on Thursday.CreditCredit…Scott Rogers/The Times, via Associated Press
By Richard Fausset and Michael Levenson
• Jan. 28, 2021
GAINESVILLE, Ga. — A line carrying liquid nitrogen ruptured at a poultry processing plant in Georgia on Thursday morning, killing six people and injuring 11 others in an accident that union officials said raised serious questions about safety protocols at the plant.
Firefighters responded at 10:12 a.m. to a report of burns at the Foundation Food Group plant in Gainesville, Ga., about 55 miles northeast of Atlanta, Zach Brackett, a Hall County fire division chief, said at a news conference.
Once there, the firefighters found a "large contingent of employees that had evacuated, along with multiple victims that were in that crowd that were also experiencing medical emergencies around the facility," Chief Brackett said.
Five people were found dead inside the plant, and a sixth person died after being taken to the Northeast Georgia Medical Center in Gainesville, according to Beth Downs, a medical center spokeswoman. The authorities did not release the victims' names. Mexican government officials said that two of those killed were Mexican citizens.
"Preliminary indications are that a nitrogen line ruptured inside the facility," said Nicholas Ancrum, the vice president of human resources at the Foundation Food Group.Credit…Scott Rogers/The Times, via Associated Press
Three others were in critical condition, and five, including one firefighter, were in fair condition, Ms. Downs said. Another three who had been taken to the hospital were released, she added. All those who were hospitalized had respiratory problems.
An additional 130 people were taken by school buses to a church for evaluation by medical personnel, Chief Brackett said.
Nicholas Ancrum, the vice president for human resources at the Foundation Food Group, said that a "tragic accident" had occurred at the plant, which had been called the Prime Pak Foods plant until it was taken over this month by the Foundation Food Group, a poultry company with headquarters in Gainesville.
"Preliminary indications are that a nitrogen line ruptured inside the facility," Mr. Ancrum said at a news conference. "Those lost today include maintenance, supervisory and management team members. Every team member is equally important to us, and our hearts go out to their families and communities who have suffered such a devastating loss."
Stuart Appelbaum, the president of the Retail, Wholesale and Department Store Union, which represents more than 15,000 poultry workers at facilities across the southern United States, called the deadly accident "a complete and utter tragedy."
"Had simple safety protocols been followed today, workers' lives wouldn't have been on the line," he said. "The egregious lack of standards at nonunion facilities like the one in Gainesville cost essential workers their lives today."
The plant ran afoul of the Occupational Safety and Health Administration several times in the past few years. In 2015, it was fined more than $100,000 for about a dozen safety violations, according to records. The following year, it was fined more than $40,000 for violations.
In 2017, two employees underwent amputations, including one of two fingers after his left hand got caught in machinery that he was cleaning, according to records. The other worker lost four fingers on his right hand after it got stuck in a food mixer. In 2019, the plant was fined $3,750, records said.
Mr. Ancrum said that Foundation Food had immediately evacuated 130 employees after the leak and had taken steps to protect others and the surrounding area from exposure.
"Foundation Food Group takes workplace safety very seriously and works constantly to adopt and implement the most effective safety programs available to the industry," Mr. Ancrum said. "Until this investigation is completed, we cannot say with confidence precisely how this accident occurred."
Liquid nitrogen is often used in poultry plants to chill or freeze chicken after it has been gutted and processed, said Edgar Fields, the Southeast Council president of the Retail, Wholesale and Department Store Union.
But when it evaporates, the resulting nitrogen gas can fill a much larger space and can rapidly displace air and the oxygen essential to life, leading to an asphyxiation hazard, said Rick L. Danheiser, a professor of chemistry at the Massachusetts Institute of Technology. Because of its low temperature, liquid nitrogen also can cause cryogenic burns on contact, he said.
In poultry and meat plants, the seals on pressurized liquid nitrogen lines must be checked routinely for leaks, union officials said.
If it turns out that the plant was cutting corners to save costs, the company should be prosecuted, said Mark Lauritsen, the director of food processing, packing and manufacturing at the United Food and Commercial Workers International Union, which represents about 250,000 meat and poultry workers.
"This should never ever, ever happen," given how dangerous the chemical is, Mr. Lauritsen said.
The nitrogen leak was one of several deadly industrial accidents in recent years.
In April 2010, 11 people died when an explosion ripped through the Deepwater Horizon drilling rig in the Gulf of Mexico, unleashing one of the worst offshore oil spills in the United States. In May 2020, 11 people in India died and hundreds were sickened after a tank containing styrene, a liquid used in making plastics, leaked, officials said.
Other recent industrial accidents have sent thousands fleeing from their homes.
In November 2019, 30,000 people in southeast Texas were evacuated after a pair of explosions rocked the Texas Petroleum Chemical plant. And in 2017, 21 emergency workers in Texas were treated for smoke exposure after Hurricane Harvey caused fires at the Arkema chemical plant.
The deadly accident on Thursday morning was silent, at least to one employee, Maria Bonilla, 60.
Ms. Bonilla, a Salvadoran immigrant who does not speak English, was working in the marinating department of the sprawling plant. She did not hear an explosion, or a crash or screams.
"We didn't hear anything," she said.
She knew something was wrong only when a supervisor came running in to her department saying that there had been an accident and that everyone had to get out.
She said she and other workers had evacuated and stood outside for more than an hour, terrified.
Ms. Bonilla, who has lived in the United States for 30 years, said that she had worked in the plant for eight years.
On Thursday evening, Ms. Bonilla was the sole worker in the parking lot, sitting in the driver's seat of her white Chevy sedan. Her son Richie Alexis Santos, 29, had come to make sure she was OK.
"Honestly, I feel that she got blessed, she's lucky," he said. "Because nitrogen, you can't see it. It's a good thing it didn't spread around the building or we probably wouldn't be here right now."
He added, "Definitely it'll be more pressure on the companies to have a safer place to work at."
The plant is one of many in Georgia, a top chicken-producing state, and in Gainesville, which has been called the poultry capital of the world because of its many processing plants.
The industry nationwide is known for paying workers low wages to work in freezing-cold plants, where they often stand shoulder to shoulder processing birds at a rapid clip, according to the Retail, Wholesale and Department Store Union.
Workers can encounter dangerous equipment, slippery floors and hazardous refrigerants like ammonia, according to the Occupational Safety and Health Administration.
Thousands of workers have also tested positive for the coronavirus, which has swept through meat- and chicken-processing plants, many of which stayed open last year when other businesses closed.
Mr. Fields said the plants in Gainesville employ many immigrants from Asia, South America and Africa.
On Thursday evening, the Foundation Food plant was eerily quiet. Part of the parking lot was roped off with police tape. Through a doorway it was possible to glimpse an empty room lined with blue smocks for workers, hanging on a rack. Through a window could be seen an empty break room with a few lunch sacks, backpacks and bottles on a folding table.
Gov. Brian Kemp of Georgia said in a statement that "our hearts are broken after hearing about the tragedy that took place at Prime Pak Foods in Gainesville this morning."
He said he and his family had asked all Georgians "to join us in praying for the families facing a terrible loss and the other employees who are receiving medical care."
Richard Fausset reported from Gainesville, Ga., and Michael Levenson from New Jersey. Miriam Jordan contributed reporting from Los Angeles, and Azi Paybarah from New York. Sheelagh McNeill contributed research from New York
Richard Fausset is a correspondent based in Atlanta. He mainly writes about the American South, focusing on politics, culture, race, poverty and criminal justice. He previously worked at the Los Angeles Times, including as a foreign correspondent in Mexico City.